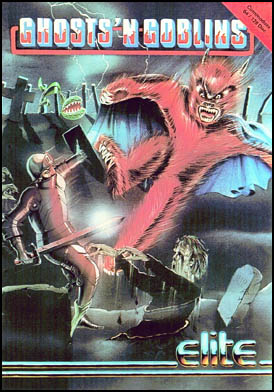 Ghosts n Goblins: Original brugermanual
GHOSTS'n'GOBLINS

PUBLISHER
Elite

AUTHOR
Keith Burkhill

YEAR
1986, re-released 1989

CATEGORIES
Arcade Adventure

CONTROLS
Redefinable keyboard controls, Kempston, Cursor and Interface 2.

INSTRUCTIONS
A brave knight is just about to propose to his dusky eyed maiden, when out of a dark sky swoops a highly salivating demon. Before the knight can so much as re-buckle his armour, the horrible monster seizes the knights beloved and sweeps her off to its foul lair.

Scampering across a scrolling landscape, he must make his way to the demon king's murky lair to rescue her, within a time limit.

Section 1: Graveyard/wood
Section 2: Ice palace/Ghost town
Section 3:Monster's den/Catacombs

Weapons available: lancd, sword, fireball.

Se den orginale C64 brugermanual scannet ind her.




Klik her, for at komme tilbage til Ghosts n Goblins på C64.

Kom i gang med spillet!
Spil Ghosts n Goblins direkte i din webbrowser: Klik her!