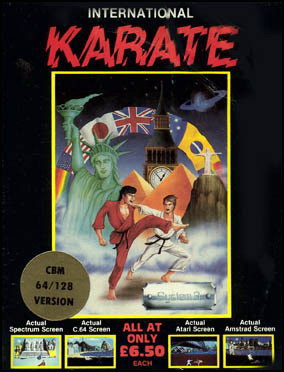 International Karate: Karate i verdensklasse
Udgivet: 1986
Udvikler: System 3

Spillet
International Karate simulerer en karatekonkurrence, hvor to kæmpere konkurrerer mod hinanden. I singleplayermode varer en kamp 30 sekunder. I hver kamp vil du få enten et halvt eller et helt point.
Den kæmper, der når de første to fulde point, eller har flest point når tiden udløber, vinder. Dommeren afgør, om du får et fuldt eller et halvt point. Når du én gang taber en kamp, er du ude af turneringen, og du din score og farven på dit bælte registreres på highscorelisten.





Original brugermanual
Læs den originale brugermanual og få mere information om International Karate.

Har du problemer med at styre spillet, eller vil du lære lidt mere om International Karate, så kan du læse den orginale brugermanual her (engelsk).


Kom i gang med spillet!
Spil International Karate direkte i din webbrowser: Klik her!