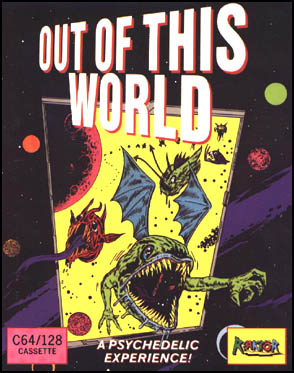 Out of this World: Farverig shoot 'em up
Udgivet: 1988
Udvikler: Ariolasoft

Spillet
Out of this World blev bestemt ikke taget vel imod af 80'ernes spilanmeldere. Alligevel fik spillet en imponerende tilhængerskare. Spillets nyskabende gameplay og farverige grafik var bestemt tiltrækkende for en stor mængde C64-fans.
Du er testpilot i et eksperimentalt faretøj, og er sendt på mission i eksotiske, horisontalt scrollende omgivelser, hvor bølger af angribende aliens skal nedkæmpes. Når alle aliens på en bane er nedkæmpet, viser der sig et "exit-icon", og adgang til næste level er sikret, når du flyver ind i det.





Original brugermanual
Læs den originale brugermanual og få mere information om Out of this World.

Har du problemer med at styre spillet, eller vil du lære lidt mere om Out of this World, så kan du læse den orginale brugermanual her (desværre endnu ikke tilgængelig).


Kom i gang med spillet!
Spil Out of this World direkte i din webbrowser: Klik her!